2023 Race Weekend
Schedule – Sunday, September 24, 2023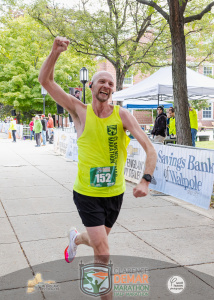 Full Marathon starts at 7:00 am sharp. The first bus will leave from Keene State College to bring you to the start at 5:15 am. The last bus to bring you to the start will be 5:45 am.
Half Marathon starts at 8:00 am sharp. The 1st bus will leave from Keene State College to bring you to the start at 6:30 am. The last bus will leave at 7:00 am.
Super Seniors Marathon begins at 8:00 a.m.
Kids Marathon begins at 8:30 a.m.
Jump to: Pre-Race Schedule or Race Day Schedule
Pre-Race Schedule
Friday & Saturday September 22-23, 2023.
Volunteer  Orientation & Check in
Tentatively scheduled. Please wait for confirmation.
Tuesday, September 19, 2023 6:00 pm
MoCO Arts – Founders Theater
Full and Half Marathon Runner check in and bib pick up
Friday, September 22, 2023
4 – 7 p.m.
Ted's Shoe & Sport
115 Main St, Keene, NH
Saturday, September 23, 2023
12 – 5 p.m.
Spaulding Gymnasium
Keene State College
Pre-Race Pasta Dinner


Saturday, September 23, 2023
5:00 p.m.
Monadnock Covenant Church
90 Base Hill Rd
Keene, NH 03431
Schedule:
Arrival: 5:00
Welcome & Opening Remarks: 5:15
Program: 5:30
Dinner: 6:30
(Pasta, meat & vegetarian sauce options, salad, rolls, desert. Cash bar available)
2023 Keynote Speaker – David Kilgore

We are honored and excited to welcome David Kilgore a renowned trail and ultra-endurance athlete with an impressive track record on and off the running courses. Born and raised in Florida, David has made NYC his home for the past eight years, where he lives with his fiancée, Keene native Molly Metivier, and their feisty 8lb Shih Tzu, Ruff Ryder. David's list of accolades features a 4-time state champion and All-American status in high school for XC and track. As a member of the NCAA D1 Championship team, he triumphed in XC in 2013. In the past five years, he has represented the USA on three different world championship teams on trails. Among David's recent achievements are winning the World Marathon Challenge, which consists of 7 marathons in 7 days on 7 continents, and the solo Speed Project, a 300-mile race from LA to Vegas. He has also set an American Record for the Red Bull Wings for Life World Run, placed 31st at the Sky Running World Championships, and finished 8th at the Leadville 100-miler, the highest elevation race in the US. Apart from racing, David is a dedicated philanthropist, raising over $36,000 for Equity Design and the Don Monti Memorial Foundation, and donating over 1,000 shoes to various organizations in 2021 and 2022. Proudly sponsored by ON (Footwear), Pit Viper Sunglasses, Red Bull, and the New York Athletic Club, David was recognized as the Central Florida Humanitarian of the Year in 2020 for his charity work, including raising $20,000 for NYC run specialty shops and over $140,000 for FoodBank4NYC.
Closest to our hearts is that David is a Clarence DeMar Marathon champion, winning the race in 2017.
Past Keynote speakers have included:
Garry Allen – Mount Desert Island Marathon Race Director
Dave McGillivray – Boston Marathon Race Director and motivational speaker
Amby Burfoot – Boston Marathon winner, running journalist and author
Dick Beardsley – London Marathon winner, author and motivational speaker
Bill Rodgers – 4-time Boston and NYC Marathon champion, member 1976 Olympic marathon team
Frank Shorter – Gold medal winner '72 Olympics and Silver medal winner '74 Olympics
Race Day Schedule
Sunday, September 24, 2023
Bib & Packet Pickup and New Registration
Full Marathon Runner
Spaulding Gymnasium-Keene State College, 5:15 a.m. to 5:45 a.m.
Half Marathon Runner
Spaulding Gymnasium-Keene State College, 5:45 a.m. to 7:00 a.m.
Bus Schedule
All buses leave from the Spaulding parking lot at Keene State College. (see Parking Map) Parking for shuttles to the starting area in Gilsum and Surry will be in any of the Keene State College Lots. Please do not park in a lot reserved for residential students, a fire lane, a lawn, or a handicapped space without a permit as you will be fined and/or possibly towed.
Make sure you are on the right bus. They will be labeled.
Full Marathon runners to Gilsum start
Busses run from 5:15 a.m. to 5:45 a.m. Busses leave when full or nearly full.
The starting gun goes off at 7 a.m. sharp.
All Full Marathon runners will be dropped off at the Gilsum Elementary School where there is plenty of parking and they will have access to the gym/cafeteria before the race starts.There are no busses returning to Gilsum after the race.
Half Marathon runners to Surry Mtn. Beach
Busses run from 6:30-7 a.m. Busses leave when full or nearly full.
The starting gun goes off at 8 a.m. sharp.
If you are being dropped off by family or friends at the Surry Mtn. Beach start, you must arrive no later than 7:20 a.m.
Half Marathon runners return to Surry Mtn. Beach from Keene State College Maddison Street Parking lot
Important:  The gate to Surry Mtn Beach will be closed and locked at 2:00 pm on Sunday.
1st bus leaves at 12 p.m.
2nd and final bus leaves at 1 p.m.
Weather/Cancellation Policy

Download the policy PDF.
Event Photographer
Scott Hussey Photography
https://www.scotthussey.com/
Watch for your runner at the finish broadcasted on Facebook Live.
Comprehensive news coverage provided by The Keene Sentinel

Radio Coverage
We are proud to partner with the Monadnock Broadcasting Group and 3 of their local stations in promoting DeMar weekend as well as providing live broadcasts from the start of the race and at the finish area on race day.
Awards
Awards for Full and Half Marathon finishers will take place at 11:30 a.m. on the Keene State College quad near finish line.
Awards are given to the top male and female finisher in each race. All finishers receive a finisher's medal.
Awards are also given to the first and second winners in each age category. We recognize the top three male and female winners from Cheshire County, as well.